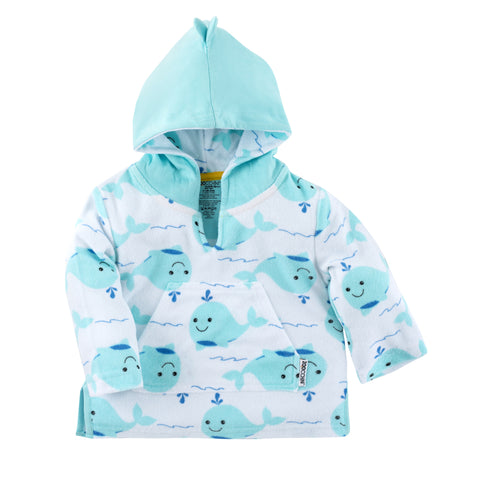 Zoocchini Terry Swim Coverup Whale
Dry off or warm up with our Swim Coverups! A must have for lounging by the pool, beach or play, ZOOCCHINI Coverups are long sleeved, offer a roomy hood and front pocket with whimsical designs! With our super soft & absorbent terry cloth fabric, your baby will not only be protected from the sun but will remain snug and warm after swim time! Our hood is uniquely made with terry on the inside to dry off and keep their wet heads warm, with a soft jersey in fun pop colors on the outside with 3D ZOOCCHINI animal features. These cute designs will excite their imaginations and enrich their lives with play! Pair with our rash guards, swim diapers, sun hats and towels for a ZOO-pendous ensemble!

Designed for year-round use in swim schools, pools, spas, waterparks, amusement parks, resorts, and the beach. Pair it with our complementing UPF50+ certified Reusable Swim Diapers, Sunhats, and Rashguards for all day sun protection - a great way to enjoy the outdoors and have fun in the sun without worry.

Make good choices and stay safe in the sun. UPF50+ clothing helps protect against sun, but sunscreen should be applied to any skin that is not covered by a sun protective garment. (face, ears, hands, feet, etc.)