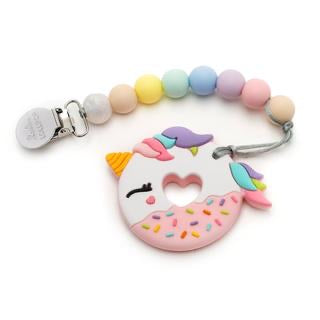 Pink Unicorn Donut silicone Teether Holder Set Cotton Candy
A unicorn donut!? Yes, we at Loulou Lollipop love having fun with our designs! Teething is ugly, but your babies' teethers don't have to be. Why not have some fun and make teething more bearable! Our teethers are made from food grade silicone rubber, that is PBA, PVC, Phathalates, Cadmium, Lead free. All of our teethers are tested to conform ASTM 963 toy testings and CPSIA standards. As moms ourself, we understand you and we only want to provide you the best for your precious babies!
100% food grade silicone.
Stainless steel clip. Rust-free and saliva resistant.
Can be chilled for added relief.
Wash before use.