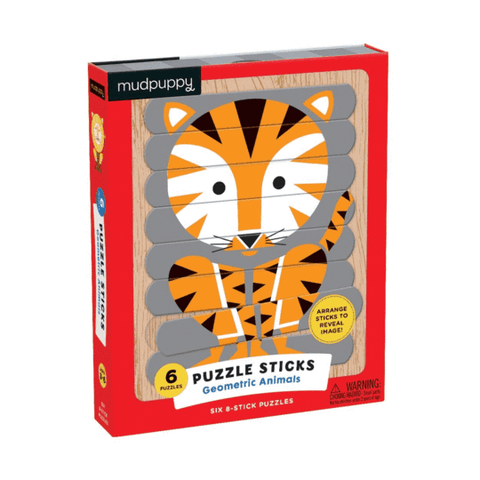 Mudpuppy Geometric Animals Puzzle Sticks
Mudpuppy's Geometric Animals Puzzle Sticks includes 24 double-sided pieces that create six different eight-piece puzzles! Sort the sticks by color and place them in the puzzle tray to reveal six different animals from around the world.
- 24 double-sided puzzle sticks
- Creates unique 6 puzzles 8 stick puzzles
- Sort sticks by background color, then arrange in the correct order to reveal image
- Puzzle tray included
- Ages 3-6
- Sturdy drawer box: 7.5 x 9.25 x 1.5", 19 x 23.5 x 4cm
- Winner of Oppenheim Platinum Best Toy Award
- Puzzle greyboard contains 100% recycled paper. Packaging contains 80% recycled paper. Printed with nontoxic inks.
- All Mudpuppy products adhere to CPSIA, ASTM, and CE Safety Regulations