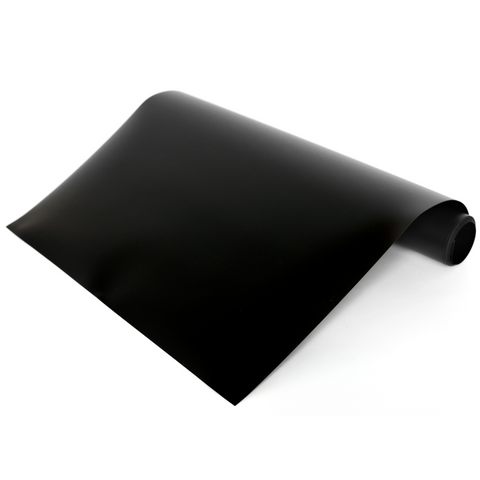 Chalkboard Runner Plain Placement
WANT A MESS FREE WAY TO KEEP THE KIDS (AND ADULTS) ENTERTAINED WHILE WAITING FOR DINNER? Eliminate the "is dinner ready yet?" fussing and fidgeting while waiting with the Scribbles by Imagination Starters Reusable Washable 16" x 72" Chalkboard Table Runner for no mess fun and entertainment. Roll it out and throw down some chalk or dry erase crayons and let the fun begin. The material is food safe and each one is reversible.

PERFECT FOR ENTERTAINING DURING THE HOLIDAYS AND DINNER PARTIES! Use it at Thanksgiving or Christmas and have each person write down something to be thankful for or their top Christmas wish. The runner can be used at a casual wedding or party instead of a seating card too. Create fun assigned seating and let adults unleash their inner child. Party guests will have a blast finding their seats and leaving notes and drawings at their setting or someone else's.

WASHABLE AND REUSABLE TO BE USED AGAIN AND AGAIN! The Imagination Starters Table Runner is completely washable to be used over and over by your little ones and the whole family- just wipe clean. Works with chalk, chalk markers, or no mess dry erase crayons (sold separately) and erases easily with water! Then roll it back up for easy storage. Use it at home or take with you when you visit friends and family.

LET YOUR LITTLE ONES FEEL THE JOY THAT COMES FROM USING THEIR IMAGINATION! End device screen time at the table with the Imagination Starters Chalkboard Table Runner and let them draw, color, doodle, or practice writing letters and words. You can also throw it on the floor for your littles, hang it from the wall for doodling, or cut it up to make your own project- it won't fray! Wherever you decide to use it, it'll encourage their imagination and exercise their creativity.

LOOKING FOR A FUN AND CREATIVE GIFT? This runner is great for parties, buffets or just entertaining the kids while preparing dinner. This coloring table runner will be a great addition to any tabletop, kitchen or kid's department. Since it's reusable it's a budget friendly, money saving gift that will last a long time! Perfect for any holiday, birthday, classroom, bridal shower, girls night in or anytime gift!